LOGOCLIP
LOGOCLIP is the continuous clip made of domestic aluminum wire, and designed for clipping all types of casings from the 30th to the 120th calibers on automatic clippers Poly-clip and Alpina.
The LOGOCLIP clip is a design development of the Logos company. LOGOCLIP is reliable in all situations, even when there are problems with large-sized casings, casings with the net, or in case of significant overfill of the casing. At the same time, even in these cases, due to its profile shape, LOGOCLIP does not increase the load on the clipper, and maintains its long inter-repair period.
Our specialists constantly actively work on optimizing standard sizes and improving quality specifications of the clip, as well as developing new profiles in relation to development of the market and the release of new types of equipment.
The unique feature of the LOGOCLIP production technology is the electronic system for winding the clip onto the reel with the automatic system for maintaining its tension. This LOGOS specialists' development is their intellectual property. The electronic winding system made it possible to completely eliminate overlapping turns of the clip at the time of its use, as well as such problems as the clip getting stuck in the clipper, changing the pitch due to clamping in the reel or die, leading to shutdowns and loss of time as a result of the process restart. By using the new winding technology, the LOGOCLIP clips application assuredly improves performance footage clip-on companies, reduces losses of clips, and finished products.
SPECIFICATIONS AND ADVANTAGES
It provides sustainable results when working with large-sized casings, casings with the net, in case of considerable overfill of the casing.
It ensures careful operation of the equipment, as it does not require significant clipping efforts.
The electronic winding system allows you to avoid failures in operation of the clipper.
High-quality raw materials: each batch of aluminum wire is tested on 16 parameters.
New profiles for new types of equipment.
International quality standards compliance: it is delivered to meat processing plants around the world.
It is noticeably cheaper than the original, and allows you to substantially save on consumables.
ASSORTMENT
Standard sizes of the LOGOCLIP clip:
| | | |
| --- | --- | --- |
| 15-07/5*1,5 | 18-07/5*1,5 | 18-11/5*2,0 |
| 15-08/5*1,5 | 18-07/5*1,75 | 18-11/5*2,2 |
| 15-08/5*1,75 | 18-09/5*1,75 | 18-12/5*2,2 |
| 15-09/5*1,5 | 18-09/5*2,0 | 18-13/5*2,2 |
| 15-09/5*1,75 | 18-10/5*2,0 | |
Description of the clip standard size
The clip standard size: T – H / B x S
T - step
H - height
B - width
S - thickness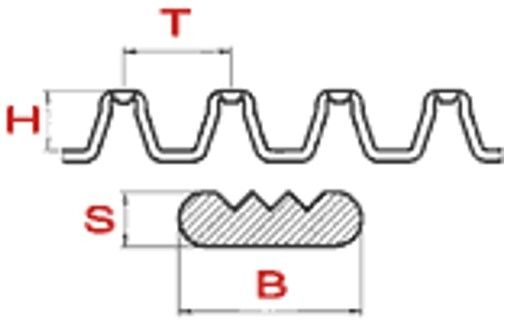 TECHNOLOGICAL RECOMMENDATIONS